Psycholodzy mówią, że nie ma złych emocji – zły jedynie może być sposób, w jaki dajemy im ujście. Zobacz, jak dzięki prostym działaniom plastycznym możesz pomóc dziecku opanować gniew, stres albo strach.
Przedszkolak, a nawet dziecko w wieku szkolnym jest zupełnie bezradne wobec swoich uczuć, dlatego, zamiast karać go za wybuchy gniewu lub złości, lepiej nauczmy go, jak prawidłowo rozpoznawać swoje emocje, nazywać je i okazywać w akceptowalne dla ciebie sposoby. Zabawy plastyczne mogą mu w tym pomóc.
Strach ma wielkie oczy – narysujcie je!
Rozmowa o uczuciach nie jest łatwa nawet dla nas, dorosłych, a co dopiero dla kilkulatków, które silnie odczuwają, a jednocześnie nie do końca umieją określić przyczynę i rodzaj emocji. O wiele prościej będzie ci pokierować rozmową podczas wspólnego malowania farbami lub kredkami.
Możesz np. zachęcić dziecko do namalowania strachu przed ciemnością – jeśli np. dziecko boi się samodzielnego zasypiania – albo wspólnie narysować gabinet lekarski, jeśli malucha czeka szczepienie. Jeżeli niepokoi cię milczenie dziecka np. na temat przedszkola lub szkoły, zaproponuj mu najpierw namalowanie zabawy w domu, a następnie, kiedy już się zrelaksuje i otworzy na emocje, zachęć go do wspólnego namalowania na kolejnej kartce zabaw przedszkolnych lub szkolnych. Podczas malowania łatwiej będzie dziecku opowiadać o emocjach, jakie mu towarzyszą w trudnej sytuacji poza domem, ponadto już sam akt twórczy pozwala mu wyzwolić trudne uczucia i przyjrzeć im się z bliska – a to najlepsza recepta na ich opanowanie.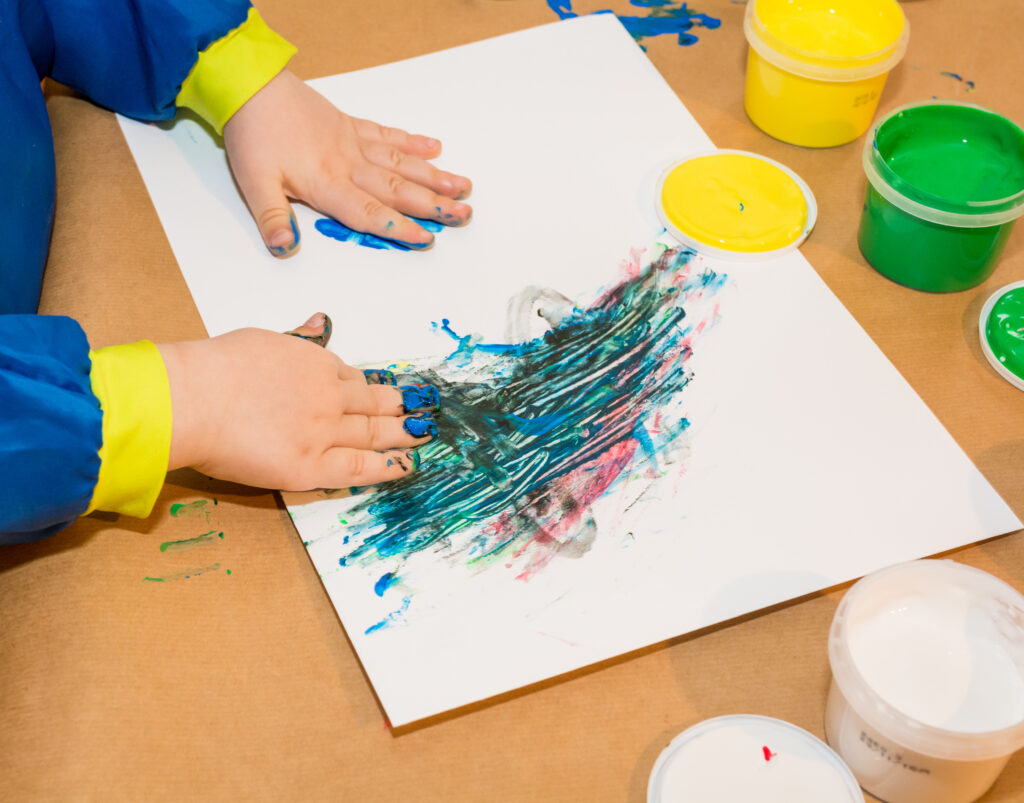 Na stres i nieśmiałość
Malowanie sytuacji, które nas stresują albo wywołują w nas lęk, jest jedną z zasad arteterapii, czyli inaczej mówiąc, terapii przez sztukę. Popularną metodą arteterapii jest metoda malowania palcami, opracowana przez Ruth F. Shaw, amerykańską artystkę i pedagożkę. Twórczyni zauważyła, że malowanie palcami, pomaga wyrzucić z siebie emocje, daje przestrzeń do refleksji i uwalnia od stresu.
Działania plastyczne pomagają dzieciom nie tylko poradzić sobie ze złością czy strachem, lecz także dodają im pewności siebie. Rysując, malując i wycinając, dziecko uczestniczy w procesie tworzenia, dzięki czemu wzmacnia się jego poczucie sprawstwa i wpływu na otaczającą go rzeczywistość. To kolejna niebagatelna korzyść dla rozwoju emocjonalnego dziecka.