Krok 1
Ze złotej pianki wytnij 10 kółek: dwa o średnicy 10 cm, dwa o średnicy 8 cm, dwa o średnicy 6 cm, dwa o średnicy 4 cm i dwa o średnicy 2 cm. Weź po jednym kółku z każdego rozmiaru i sklej je w taki sposób, żeby największe kółko było na spodzie, na nim nieco mniejsze kółko, potem jeszcze mniejsze, aż najmniejsze kółko będzie na wierzchu – tak jak na zdjęciu. To samo zrób z pięcioma pozostałymi kółkami.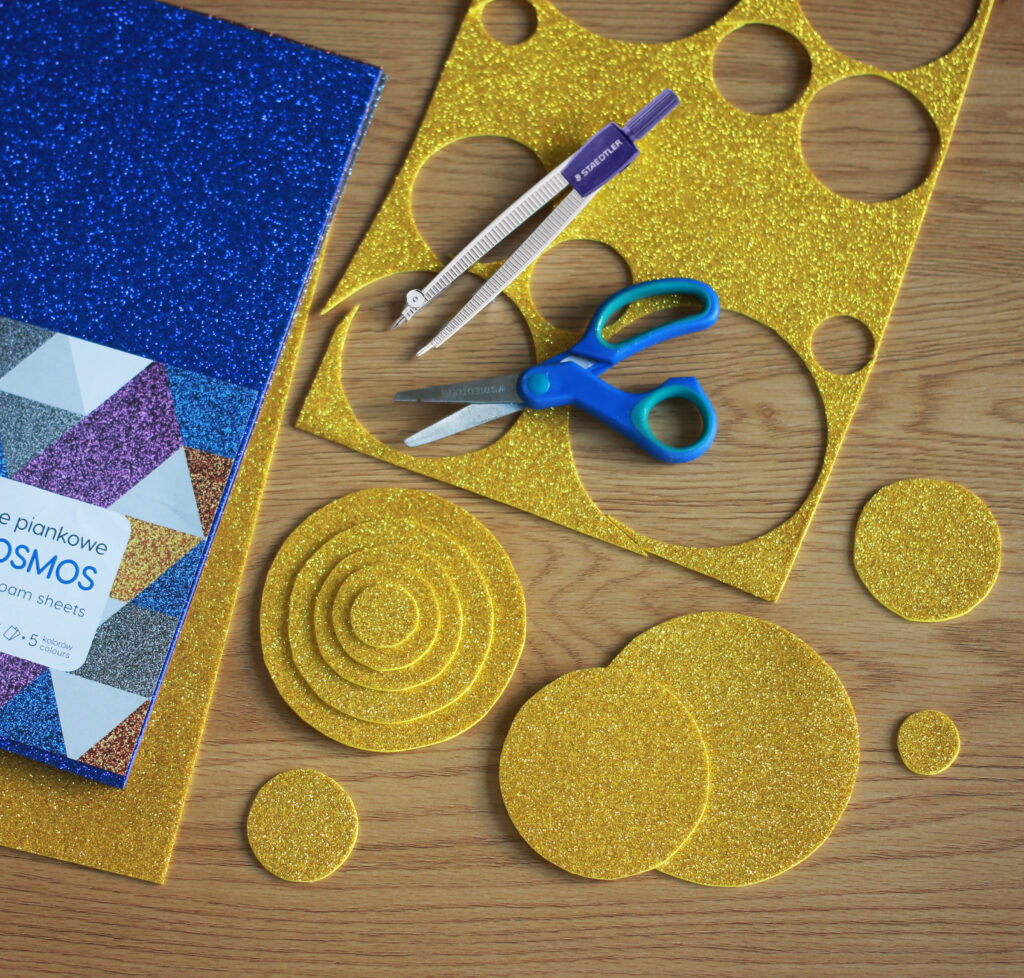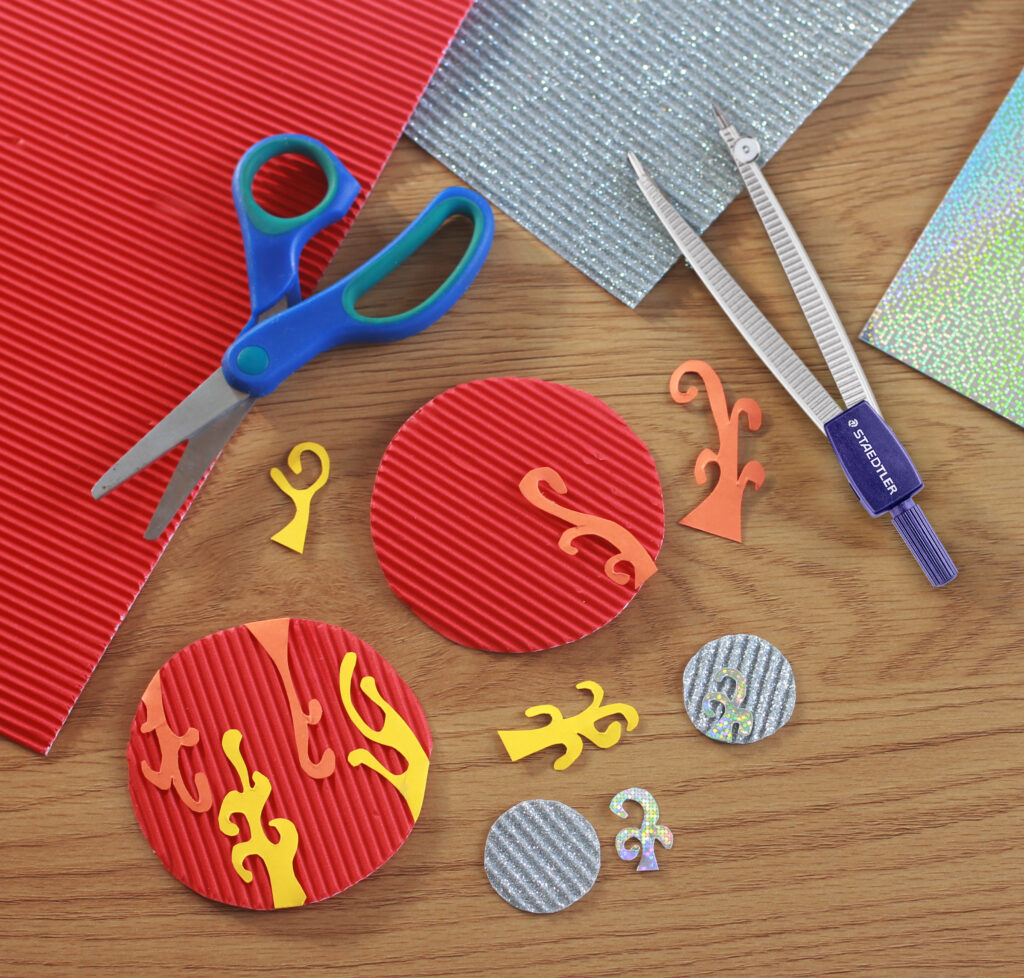 Krok 2
Z czerwonej tektury falistej wytnij dwa duże kółka (ok. 8-9 cm) a ze srebrnej tektury falistej wytnij dwa małe kółka (ok. 3 cm). Z żółtego i pomarańczowego papieru wytnij fantazyjne kształty i naklej na czerwone kółka. Do ozdobienia srebrnych kółek użyj kształtów wyciętych z bloku Holographic.
Krok 3
Z brokatowych pianek Kosmos wybierz brązową, fioletową i niebieską. Z fioletowej pianki wytnij dwa kółka o średniej wielkości, z brązowej wytnij dwa małe kółka a z niebieskiej pianki wytnij obręcz, która będzie pasowała rozmiarem do fioletowego kółka – będzie to pierścień Saturna. Użyj farb 3D do ozdobienia brązowych i fioletowych kółek.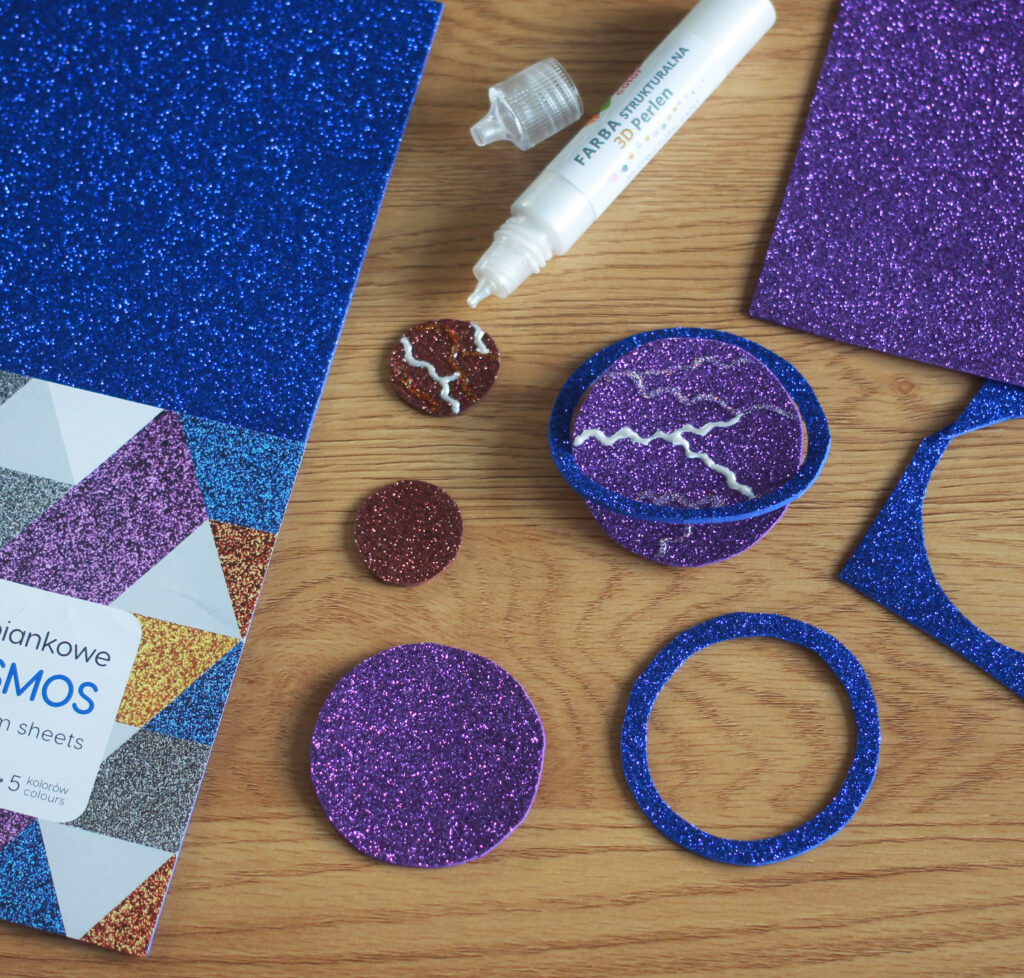 Krok 4
Wytnij po dwa kółka z czerwonej tektury falistej i z niebieskiej pianki. Ozdób je farbami 3D i brokatowymi farbami tempera. Dwie pozostałe planety wykonaj wybraną przez siebie techniką. Pamiętaj, żeby do każdej planety wyciąć dwa kółka w tym samym rozmiarze. Następnie je udekoruj.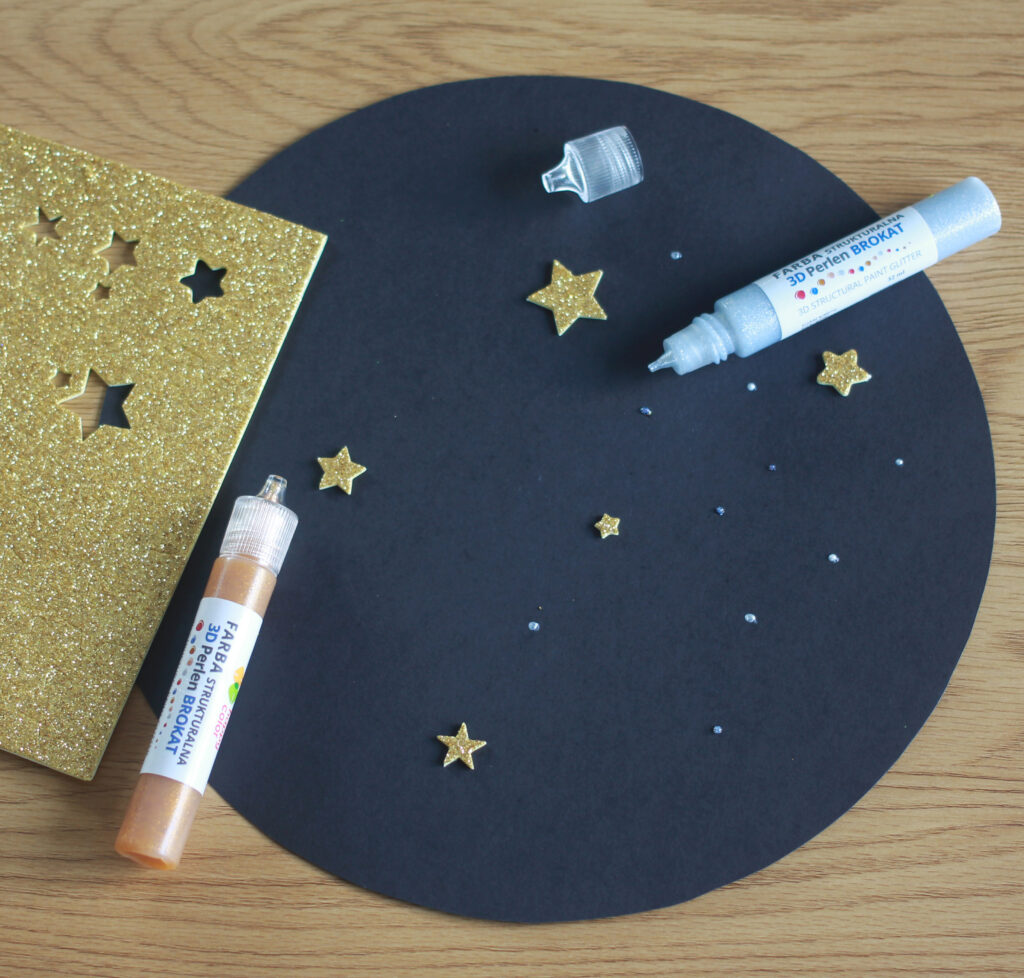 Krok 5
Z kolorowego bloku technicznego A3 wyrwij czarną kartkę. Narysuj na niej jak największe kółko i je wytnij. Naklej na nie kilkanaście gwiazdek z brokatowego arkusza z naklejkami. Pozostałą przestrzeń wypełnij kropkami z farb 3D.
Krok 6
Weź 9 patyczków do szaszłyków. Każdą z planet sklej w taki sposób, żeby nieozdobione strony kółek przylegały do siebie, a pomiędzy nimi znajdował się patyczek.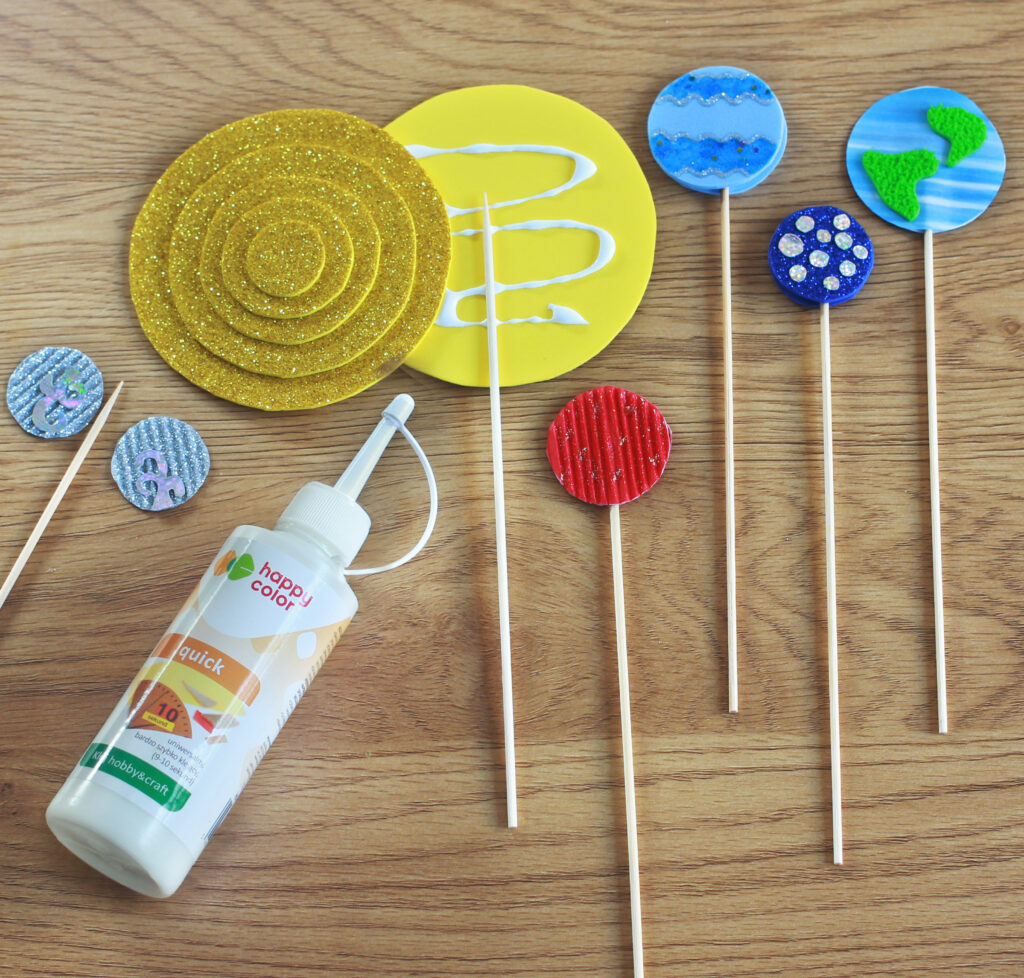 Krok 7
Uformuj 9 małych kulek z czarnej plasteliny. Nabij je na wolne końce patyczków. Tak przygotowane patyczki z planetami i plasteliną umieść na podstawie. Dociśnij plastelinę do kartki, żeby planety się nie przewracały.